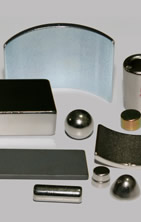 Sintered NdFeB
Sintered NdFeB magnets are produced by powder metallurgy and widely used in Motors, Generators, MRI, Pumps, Separators, Meters, Loudspeaker, Aerospace, Transportation etc. With its highest magnetic energy, good mechanical properties, hard texture, stable performance and excellent cost-effective, the NdFeB magnets have realized the correlative equipments miniaturization, light-weight and low-profile possible and become the most popular permanent magnets.
With more than 20 years of manufacturing experience in NdFeB magnets field, H.C has the ability to produce the high grade magnets such as N52, 50M, 48H, 45SH, 40UH, 35EH and 35AH. The low weight loss, low temperature coefficient and high consistency magnets are also in our mass production.
Because of its strong surface chemical activity, sintered Neodymium-Iron-Boron (NdFeB) magnets need to be surface coating treatment. The coatings are including of NiCuNi, Zn, chemical Ni, Epoxy, phosphated, Sn, Au, Ag etc.